About Us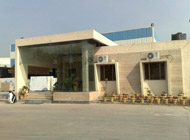 We at Heritage Marble Pvt. Ltd propitiate our customers by catering World – Class Marble imported from Italy, Turkey, Spain, Greece, etc. The belief 'Customer is the King' is well formalized for many years by our team and therefore we cater the best.
In this ever flourishing Marble Industry by far we have created a milestone and retained high standards in terms of Quality, Service & our habitué's needs.
You are warmly welcome to Heritage Marble Pvt. Ltd, an established and respected company which renders preeminent quality of Marble to its customers throughout India as well as across the globe.